Bodybuilding is a Woman's 
Best Body Shaper!
Bodybuilding is one of the best ways for you to shape your body and change your metabolism.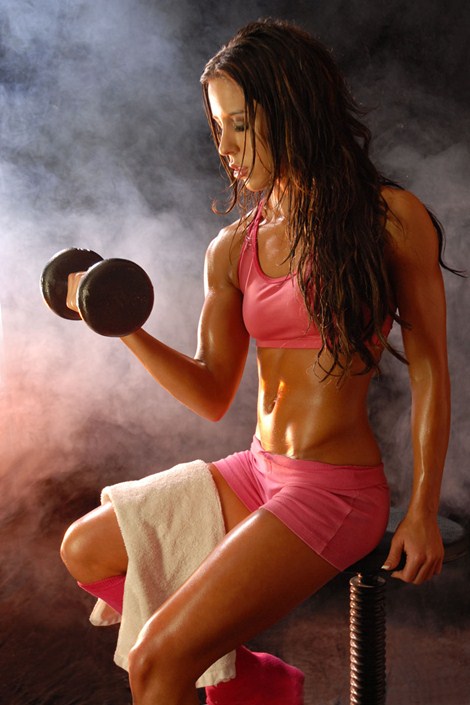 Also known as strength training or weightlifting, this type of resistance training with weights builds muscle, joints, ligaments, tendons and bone density. This is one of the best ways women can prevent the disease osteoporosis. 
This is also a very important type of fitness training for those of us that are over 40 since it can help us keep and even make lean muscle gains, keeping us younger, leaner and supple as we age. I have seen some HOT looking grandmas and most of them you can tell frequent the weight lifting room whether in the gym or their garage, I can't tell that part. But they have lean hips and defined legs among other benefits:)
I started lifting weights to lose weight a few years ago and alternating my strength training days with running helped me to get my body fat low and lose the extra pounds not to mention getting sculpted shoulders, ab definition and great calves. 
I had my adventures in what the gym called "The Cave" at their gym, a mostly all-male place with all of the Olympic sized plates and bars but I made my way in. Don't really know if I was taken seriously, but I didn't care about that part. The guys were good about spotting me or giving me their tips or just showing off. I asked questions and got lengthy explanations sometimes about how to use a machine properly. But I took it all with a grain of salt and learned what I could:)
Benefits of bodybuilding for women
1. You will lose fat! One study showed that an average woman who lifted weights routinely 2-3 days for two months will gain 2 pounds of muscle and lose 3 1/2 pounds of fat.
Also, as you gain lean muscle your resting metabolism is raised and you burn more calories all day, even when at rest.
2. You WON'T get bulky! We women have about 10 times less of the hormone that men have that cause hypertrophy, or muscle growth. But what you will get is muscle tone and definition.
3. You will get the edge in your sport. Building muscle and strength increases your performance in your sport. If you dance, your spins will be faster and jumps higher; if you play ball, you will hit or kick harder; if you golf your drive will be harder. 
4. Your chances of getting injured are lowered. Connective tissues are stronger as well as joints becoming more stable. Back pain and arthritis pain is also reduced or disappear completely. 
5. Getting stronger has other health benefits. Heart disease, diabetes, osteoporosis, and depression are also fought off with becoming stronger physically. 
6. Confidence soars! I remember feeling my most confident as I was able to lift heavier and heavier, and get more and more toned and defined. I was able to run farther and dance better in my pole fitness classes as well as increase my flexibility. 
If you find you love lifting weights, you can also get involved in amateur and professional competitions for women body builders. 
Use a fitness training log to track your workouts and read my page on reps and sets for a better understanding of how to use these combinations to reach your fitness goals. 
Bodybuilding > Fitness Training Plans > Build Muscle
Have a great fitness training tip to share with us?
We would love to hear what has worked for you or helped you in reaching your fitness goals...