Fitness Training Equipment
for Women
There are some essential pieces of fitness training equipment that every woman athlete needs in her gym-whether your gym is at home or down the street. 
Again, these are the basics that I think that every gym should have or at least you should have access to in order to get you to a higher level of fitness - no matter if your goal is weight loss, fat loss, building strength and muscle or improving your sport.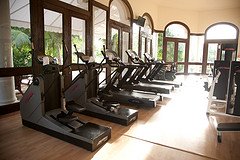 1. Weights. I think weights are the #1 piece of equipment that you should have access to above all else.
You can get away with doing cardio without a treadmill or stationary bike, but you can only push and pull your body weight until it becomes easy and you plateau and need some external weight to build your muscles. 
I prefer cast iron weights because they are much denser than the plastic concrete-filled plates that are cheaper. The Olympic bars and plates last longer and it is easier to learn to lift heavier if you have access to these. 
Women that lift heavier weights have better bone density and leaner bodies since they are building muscle instead of just toning with light weights. 
2. Cardio Machines. Treadmills, stationary bikes, rowing machines and elliptical machines are awesome fitness training equipment to have access to especially in bad weather or when you just need to have a place to zone out when exercising. 
You can't always zone out in a run when you are outdoors, but you can when you are on the treadmill! There are less safety hazards - but this is not to say that you don't pay attention to your speed or time or intensity - it just takes away all of the other elements you have to pay attention to outside. 
A good pair of running tennis or a ten-speed bike are also good pieces of fitness training equipment to have if you don't have a treadmill or stationary cycle. 
3. Weight Bench. A stable, good-sized weight bench that can hold an Olympic sized bar and plates as well as incline (for presses) is necessary for your weightlifting routine. 
4. Squat Rack. The squat rack helped to boost my confidence and build my body more than anything. I learned how to rack my bar on this and to also get under the weighted bar and hold it properly for a squat. 
Without the squat rack, I could have never done a weighted squat because there was no way I could lift above my head as much as I squatted when it was on the rack. 
5. An exercise ball. These are great, simple pieces of equipment that can be used by itself or in a variety of exercises. Also known as 'Swiss' balls, these soft, elastic air-filled balls can make your body work a lot harder and engage all of your core muscles.