Fitness Training for the Woman Who Wants Her Best Body Ever!
Looking for something specific on this site? Enter and search below!
This fitness training for women guide is your online resource for fitness training plans, videos, exercises, equipment, diet, nutrition and tips for all of your fitness goals- including sport specific training, fat loss, diet and nutrition and strength training.
Maybe you were an athlete in high school or college and life has just got in the way of those once hard muscles, visible abs and tight curves; or maybe you have never kicked a ball around or ran track but envied the girls who were disciplined enough and had the body to show for it.
Whether your goal is to become stronger and faster at your current sport, to build muscle, fat loss or to develop curvier legs and ribbed abs, there are exercise and training plans for you.
This site is for the woman who has determination and a desire for her body to look, feel and perform at its best; who knows that underneath is a lean and fit woman who can run faster, climb higher, hike farther and pull her own body weight up with ease.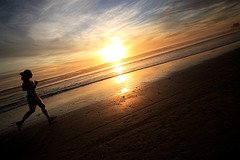 I was never a 'real' athlete that competed in sports in high school or college; but I am athletic and consider myself an athlete because I train-I am in competition with my own self sometimes, but I don't let that stop me or hinder me from finding new challenges. 
First it was just about losing weight to look good in a bikini; I wanted to see how sculpted I could get-I knew the look I wanted-not too lean not too bulky; just toned and strong. (There is a whole field that deals with just training women for a certain body look!) I also knew I wanted to have lung power to run and cycle and box and pole dance (one of my favorite sports) so all of my fitness training took these things into consideration. 
I'll try and cover every topic related to women in fitness here on this site and if there is something I'm missing or something you have a question about, contact me and let me know. I want this site to be a down-to-earth hub for good information and help getting started on your fitness journey-and for wherever you want it to end up.
I also will cover motivation-something that has always been a challenge for me. And I'm assuming if it's been such a struggle for me, then I probably have company!
Have fun clicking through the site or start here on the home page and go through each of the related topics on the left column of this page to explore all of the elements of getting fit.
Sign up for my monthly newsletter to get free tips, advice and information.
I only find the best information that is tried and tested and pass that on-because who has time to try every exercise plan and diet just to find out that it doesn't do anything for them or worse, makes them end up gain weight or get burned out? But if there is something new that is being researched, then that will be passed on as well-but with a grain of salt:)