Fitness Instructor Training
Fitness instructor training is available online or in the classroom and can lead to a great career or help you on your own road to fitness.
There are several well-known agencies and institutions that have fitness instructor and private or personal fitness trainer courses. You complete the training, show the school through a series of tests that you can apply what you have learned and then you receive a license.
The schools also help you look at finding employment or setting up your own personal fitness trainer business where you can market your services to private clients and train them.
I took a course through ISSA (International Sports Sciences Association) because I wanted to learn about fitness more in depth for myself. I never worked as a trainer or had my own business but I gained knowledge to where I can share my information and experiences and working knowledge with others, such as on this site.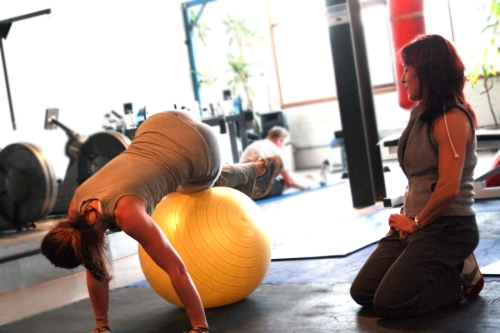 Using a personal trainer is also a great tool to help you to reach your goals. If you are lacking motivation, discipline or understanding, or just need to have someone help you to learn more about how you can work your body out or be accountable to, then hire a personal trainer.
I'll talk more about how to hire a personal trainer and what to look for in another section. 
In learning about fitness training, a variety of classes and subjects are covered. These include:
- Human anatomy 
- Human physiology
- Kinesiology (how muscles work)
- Diet and Nutrition
- Sport Specific Training
- Exercises for different muscle groups
- Health concerns
- Fitness for the elderly, pregnant and injured
- and many more subjects are covered that are related to exercise and fitness. 
Where to Find Fitness Instructor Training
All of the widely known schools are online and offer a way to sign up for their programs online. Local colleges may have their own courses as well as your local university. 
Here are some of the major institutions:
ISSA (International Sports Sciences Association)
NCSF (National Council on Strength and Fitness)
AFAA (Aerobics and Fitness Association of America)
ACE (American Council on Exercise)
...and there are many more opening that offer credentialed courses to get your license.