Free Fitness Training Logs
One of the keys to success is to use one of the free fitness training logs available to us women looking to get fit. Keeping track of your progress is one of the biggest motivators - looking back to see how far you have come and how much farther you can go!
You can keep track of your weight loss, fat loss, cardio and strength training efforts and progress in several ways. You can use a spiral bound notebook, use an app like MyFitnessPal or BodySpace (both free!) or use auto-calculating charts like the ones I have links to below. 
I personally have always used a hardcover notebook and kept notes about my goals and how I felt during and after the workout. But I am trying out a new app by StrongLifts called 5x5 for my weight training sessions. 
Some of the benefits to using an exercise diary are:
- Creating a fitness plan that works for you
- Finding out what works and what is NOT working for you 
- Being able to visualize your progress
- A place to keep trach of your measurements, weight, BMI, fat percentage
- A place to write down your goals
- Helps you stay disciplined when you have to track your workouts 
It is a pretty awesome feeling to pull out your excercise diary one day and see that you have lost 3 more pounds and that you lifted 10 more pounds in your weightlifting since 2 weeks ago and you have lost a total of 2 inches off of your waist! Incredible! Talk about some REAL motivtion to keep going. 
This is one of the biggest reasons to keep a log. The other is to find out what is working and what is not. If you are running at a fast and furois pace every day and getting too sore to keep going or not losing any weight but holding onto your fat, then change things up. Change the pace, intensity, exercise or something else and try that.
We are all unique and different in our make up and we all respond to things differently. That is why I say that fitness is sometimes trial-and-error and what works for one does not work for another. 
Keeping a fitness journal/diary/log also helps with being more consistent in your workouts. Consistency is said to be the key to reaching your goals - keep on keeping on until you reach that goal! Knowing that you are getting closer and closer to that lowered body fat percentage or weight loss goal or bench press weight is enough to keep you going. 
These free fitness training logs are all in .pdf form so download a free version of Adobe Reader if you don't have it already.
Click on the image or the link to download the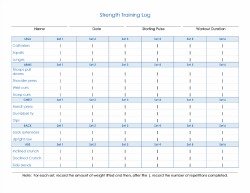 Click on the image or the link to download the
free fitness training planner:
Free Fitness Training Logs > Fitness Training for Women