Physical activity - every
woman needs it!
Doing some type of physical activity is essential to getting in shape, losing weight and staying healthy. If you are just starting out on your fitness journey and are looking to lose weight or just get moving, there are several ways to approach becoming more active.
1. Try taking a walk. With comfortable clothes and a pair of good walking shoes, a 15-30 minute walk can yield some pretty good health benefits like increased circulation, lowering of blood pressure and a general stress reliever. You get outdoors and start moving, you have time to clear your mind:)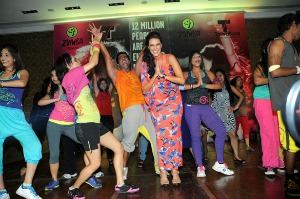 2. Start out easy, start out slow. Don't get gung-ho and start a crazy fitness training program that leaves you too injured or sore to continue on.
Take into consideration what you have been doing (running or sitting on the couch?) when considering a new sport or way of exercising.
3. Dancing is a popular way to get fit. A Zumba class can be taken by almost any fitness level and is an AWESOMELY fun way to get in shape! You can lose weight and have fun at the same time:)
4. Drink lots of water and start making small dietary changes. It helps to start eating whole, raw unprocessed foods to clear the digestive tract and to start the fat-burning fires. 
Benefits of MOVING! Move it or lose it, right?
- Relieves stress...cheaper than the shrink! Hey, I attend therapy so I am not putting down that importance, but moving our bodies helps our minds and emotional states
- Give us more energy
- Reduces the risks of all sorts of diseases and ailments we don't like to think about until we have to deal with them
- Combats obesity. Join a gym, start a walking program or take a Zumba class to get motivated
- Strengthens your immune system
- Improves the quality of your life overall - mental, physical, emotional and spiritual, believe it or not
How to get MOTIVATED!!!
- Use music on an mp3 player to carry with you to keep you motivated while you exercise
- Keep track of your progress in a fitness training log to help you stay more consistent, reach your goals and find out what works or doesn't work for you
- Work out with friends or at a gym or find a workout buddy to keep each other accountable to getting fit
- Find ways to exercise that are fun, not exhausting or boring, like ballroom dancing, walking outdoors, playing volleyball, or following along to a fitness video in your living room.
There are LOTS of ways to incorporate physical activity into your life. And you will not regret it. Moving your body is a natural and needed thing...don't delay!